Remote Deposit Capture
No more trips to deposit checks.
Bring the bank to your business.
Remote Deposit Capture is a safe, easy and secure way to deposit checks right from your business. There's no more racing to the bank to make deposits. Plus, checks will be in your account sooner, which means better cash flow. It's the fastest, easiest and most convenient way to deposit checks.
How it works:
When you sign up, you'll get a check scanner that allows you to scan and deposit checks securely from your computer. Simply plug the scanner that we provide into your computer, then log in to our secure URL to complete installation. Your computer is now ready to scan and deposit your checks.
Watch these short videos to learn how to set up and start using your RDC service.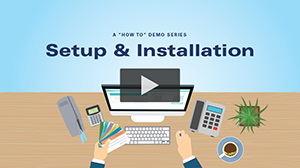 Remote Deposit Capture lets you:
DEPOSIT
checks quickly and easily from your business
IMPROVE
cash flow by receiving funds faster
PROTECT
check deposits by securely processing them
SAVE
time and money with fewer trips to the bank
The more you can focus on your business, the more productive you can be. With Remote Deposit Capture from Tioga State Bank you can deposit checks right from your office. That saves money, fuel and your valuable time. And it lets you stay focused on your business.
Put Remote Deposit Capture to work for your business
Our Electronic Banking Specialist, Kimberly Potter, is available to explain our Remote Deposit Capture service to you. To get started or to schedule an appointment with Kim, call our Customer Service Center at 888-303-4872 or complete the form below.